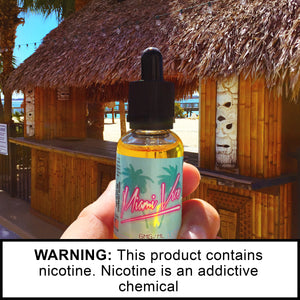 Vaped This eJuice Today. Now I Don't Want Anything Else.
It isn't exactly nostalgia or a reminder of a precise memory, just a feeling you can get out of certain smells and flavors.
It had been a while since I went through some of my go-to vapes and I was looking for something a bit different. 
Typically, I get stuck in a rut with ejuices. Lately it had been cinnamon and or caramel EVERYTHING! When it's a rainy inside day, I tend to really like thick and deep tasting eJuice flavors. But now its May and it's warmer. The rain is backing off and that feeling of summer approaching is everywhere.
It took a total of about 20 seconds looking at the bottles on my office shelf before finding something that caught my eye. The blue label with the bright pink writing seemed like it had sunny warm days written all over it.
Miami Vice it is. I put a new atomizer in and loaded my tank with light amber liquid. I can't stress enough using a fresh atomizer when you change to a different eJuice. Just knowing you are getting the pure flavor is too good of an experience to skip an extra step.
Immediately after inhale I realized that I had to change locations. I live in the city now, but I have a small balcony where I can feel a gentle breeze and watch my puffy clouds of tropical fruit flavors drift out over other rooftops. For me, having a base with a bit of cream is essential in a vape. Somehow the flavor feels thicker and maybe a bit more relaxing. Miami Vice gives you the fuller body from a rich Pinna Colada, but mixed with a bright Strawberry Daiquiri. It's not a memory of a beach it's the idea of a holiday and I intend to enjoy that feeling a lot. Don't get stuck in a rut like me. Check out some classic favorite selections or maybe something completely new. If you're feeling that springtime vibe and you haven't tried Miami Vice, or maybe it's just been a while, click here to look at some Miami Vice eJuice. You will not be disappointed.
---