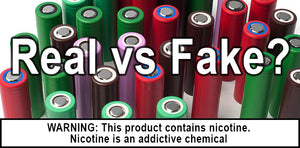 How we can make vaping safer. Starting with...
Batteries.
Lithium-ion batteries are an amazing and powerful way to store and transport a large amount of electricity. They can power our phones, laptops, even electric vehicles and YES, the vaporizers we all love. Of course, anything that has loads of energy stored inside can be dangerous. How dangerous? Very dangerous! The good news is that companies like Sony, Panasonic, and LG (to name just a few) go to great lengths to produce reliable and safer batteries for all of us, but how do you know that your batteries are actually from a good company? 
"The primary reason for concern over fakes is due to the amp drain capabilities of these batteries."
How fast you can go from
TO
Knock off products have long been a problem in many industries and Li-ion batteries are no exception. Fakes are a problem for both the manufacturer and the consumer, as the companies producing the actual product lose money and the consumer is left with an inferior product. However, there is more on the line with powerful batteries. Fake sunglasses don't typically burst into flames when used. The primary reason for concern over fakes is due to the amp drain capabilities of these batteries. If your vaping device requires high current, possibly 20 amps, and you buy a battery that is rated to drain 30amps continuously, you are well in the safe zone. If you bought a fake battery, there is a possibility that the manufacturer only produced a battery capable of 10amps but lied and sold it as a 30amp battery with all the markings of a reputable battery company. 
"Shop with a company that can be easily held accountable for their actions."
All of this sounds really scary, but it is pretty easy to avoid. The best possible solution is to shop smart. It's probably best to avoid sites like eBay, where the seller could be anyone. Of course, you can look at the reviews, but the best solution would be to shop with a company that can be easily held accountable for their actions and not anyplace that could disappear into the shadows as soon as a problem arises from a battery that they sold. 
Below we have an image of a battery that is mostly composed of filler and a tiny little battery inside. This in no way would be safe to vape.
If you've already purchased a battery and you are concerned that it could be a fake, there is no perfect test to ensure your battery is real, but there are a few things you can do to help spot them. One quick test can be to simply weigh the battery. Typically, Li-ion batteries for sub-ohm vape mods should weigh in at around 1.5ounces (45g) and sometimes more. Fakes can weigh as little as half that. While checking weight can help, fake companies are going to great lengths to make convincing fakes so I highly recommend watching this video. 
Minding Your mAhs – Ep008 – Detecting fake 18650 Li-Ion batteries
This video was created by Mooch, a blogger on the ECF (electronic cigarette forum) and vaping safety advocate. He's been writing about this topic for some time and I have learned a lot from him in his videos and the content on his blog.  Like other people I will be featuring on this blog, Mooch is someone actively looking to make vaping safer and better for everyone and you can see this with the time and effort he has put into his content. You can check out his blog Here, for great recommendations on batteries and trusted suppliers.
So how can we help the world of vaping?... well, mostly just by shopping better. By doing this we protect the integrity of the industry and help its growth by supporting companies that are providing and researching better tech. Also, it's a great idea to exercise caution when using any device with a Li-ion battery. whether it's your vape or even your phone. Follow the manufacturer's guidelines and keep them stored correctly and out of direct sunlight. If you are a DIY vaper and build your own coils, you should always calculate the resistance and make sure it is suitable for the battery. There are countless apps out there for this. Check out Ohm's Law if you are on an iOS device. This one always got the job done for me. 
There is a lot more information out there and I hope that you take some time to look it up. This article is meant as a starting point and mostly directed at newer vapers. There is a lot to pack in here and this article is already getting quite long. Here are some more links that inspired this blog for you to check out.
Calculating Ohm's Law - https://vaping360.com/best-batteries/ohms-law/
The Best 18650 Battery - https://www.makeuseof.com/tag/18650-battery/ (this one has a list of batteries and their weights so you can compare)
Mooch's Blog - https://www.e-cigarette-forum.com/blogs/mooch.256958/
Weight the batteries - https://www.youtube.com/watch?v=j4RfYufeFhc (If you have trouble with accents, this video may be had to follow, but is very informative) 
Batteries from a reputable dealer 
https://myfuma.com/collections/accessories/products/vtc-4-sony-battery
-Cheers 
---