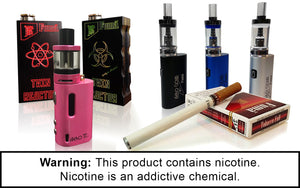 Find out if you are using the right e-cigarette for you.
Are you using the right e-cigarette for you?
One of the most important factors in vaping is finding what is right for you. You may have been vaping for a while, or are a beginner, but still feel like something is lacking. Maybe it's time to change to a different device.
The classic e-Cig is a common first. Typically these devices come with an automatic battery so you don't have to press a button to activate it. e-Cigarettes are easy to vape and typically use pre-filled cartridges. If you haven't used one of these in a while, it's really nice to come back to that classic shape and comforting feel, especially with.
Similar in size to the ecig is the vape pen.
are usually associated with slim devices that have small tanks. Ours, the  F-209 has a tank that is refillable, giving the customer the endless options to fill it with different vaping concentrates and flavors. Choose your own nicotine strength or try something different like a CBD extract.
Box Mod.
The next step up would be a mod capable of vaping with low resistance atomizers (sub-ohm). These subohm atomizers produce larger clouds of flavor. If you are having trouble sticking with vaping, I really recommend trying a larger device. Fumã offers the Aerocloud 40 watt as a simple solution, with only one button so there is no need to make tweaks or adjustments. 
However, if customization is something that is fun for you,
the next step would be an adjustable mod. You can change the flavor profile and temperature by altering the voltage or watts. Some devices are temperature controlled, where you can select a setting in degrees and the device will keep the vapor at your desired temperature. Our AeroTC60 is capable of this.
Mech Mod.
For those who like to really tinker, I suggest using a mechanical mod or commonly called a mech mod. These devices have no circuit board or regulation. In order to change the temperature and flavor, you will have to build different atomizers for whatever tank you run on it. I'll be doing a segment on building coils in another post at some time.  
It is very important to note that mech mods are unregulated. This means that there is no battery protection from short circuits. Building and modifying these devices could result in fire or detonation. There is a lot of literature available online regarding proper building techniques. We at Fumã highly recommend that you read up on this thoroughly before jumping into this level of vaping. 
For those people with patience and passion for perfecting their vaping experience, the mech mod is the way to go.
There is never an absolute on which device is best. Larger devices may be what you like in the comfort of your own home, but something small for nights out may be a better solution. The best thing to consider is finding which style would fit your life the best.
---