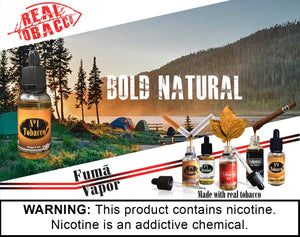 Designing eJuice With Real Tobacco.
Over the years, numerous companies have tried to make an eJuice with natural tobacco. This seemed to a challenge that was never fully answered. The taste was always strange and turned people off, or they were often too hard on atomizers. Even when it's far easier to produce a product using only artificial flavors there was always a drive to make a product from actual tobacco leaves. For us, the reason was the history of tobacco. There are about seven main types of tobacco with countless traditions and curing techniques for each. The care and perfection of the delicate flavors in the leaf were what we wanted to carry on into the vapor world. We had several hurdles to overcome first though.
After identifying the types of tobacco that we were interested in working with, we began to do extractions. Our current process takes many months and results in a naturally based real tobacco flavoring.
From there we needed to implement a filter system to ensure that it had all particulate from the tobacco removed down to a specific micron. Any larger and the coils would be gunked up very quickly with regular usage; any smaller and you start to lose some of that amazing flavor. This filtering portion, we refer to as the polishing stage. The flavoring now has a beautiful amber color with no traces of any tobacco pieces visible to the naked eye.
At this point, we began to mix and really form an understanding with how these different tobaccos work together and more importantly, vape together. We made countless variations before we finally arrived at our first formula. Our first creation was exclusively made using only flavors extracted from 4 distinctly different tobaccos. This blend we named No 1 Tobacco.
While the other delicious flavors in this line are also made with our tobacco extracts, I really wanted to highlight what can be done using only flavors straight from the leaf. This bottle contains ZERO extra flavor enhancers. No added vanilla or any additional sweetness. Just pure and honest tobacco flavor at its best paired with salt nicotine for the smoothest and most effective delivery possible. If you are someone who enjoys a quality smoke and truly appreciates the subtle flavors tobacco offers, I strongly recommend picking up a bottle. Tobacco may be an old industry, but we are carrying this on into the future.
If you are interested in checking out what else we have in the lineup, I suggest heading over to the Bold Line page and picking up a bottle.
No 4 Tobacco
Natural tobacco blended with caramel and vanilla. A light vanilla inhale and a deep exhale with robust, real tobacco accompanied by a subtle nutty sweet caramel tone.
Tobacco (Red)
Our classic tobacco is clean, earthy and woodsy with zero ashy taste. Similar to our e-cigarette cartridges.
Colonial
Reminiscent of pipe tobacco with notes of cigar flavor. Colonial has deep, dark tones of rich full-bodied tobacco sourced from rich tobacco leaves.
No 1 Menthol
Traditional menthol tobacco. This is a pure menthol cigarette taste. Rich tobacco blended with nice cold menthol with just a hint of peppermint. Never burnt, always smooth. Nº1 Menthol will taste like your favorite cool pack of smokes always did and maybe a little better.
---