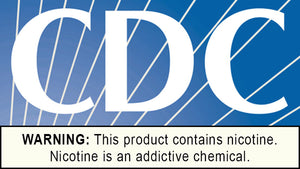 CDC Breakthrough in vaping illnesses. Is this a break for the ecig industry?
Finally, we are getting the record straight.
US Centers for Disease Control and Prevention officials have stated that while further testing will be conducted, they have identified the cause of the national outbreak of e-cigarette lung injuries.
In a press briefing, the principal deputy director of the CDC, Dr. Anne Schuchat stated that "these new findings are significant" and "we have a strong culprit."
And that culprit is… Vitamin E acetate. In a direct quote from the CDC webpage, the findings are made very clear. "Recent CDC laboratory test results of BAL fluid samples from 29 patients submitted to CDC from 10 states found vitamin E acetate in all of the samples. 
This does not mean that there should be any cause for concern over taking vitamin E supplements or using vitamin E in skincare products. Vitamin E is only dangerous when inhaled and not used as directed.
This also does not mean that the scare is over. We do not know how many contaminated cartridges were produced on the black market and if they have stopped all supplies. Please exercise caution and do not accept any vaping product from anyone outside of a reputable company.
Check the link below to visit the CDC webpage for more information and updates.
https://www.cdc.gov/tobacco/basic_information/e-cigarettes/severe-l
---