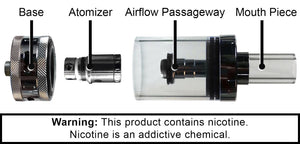 6 tips to get more from your Aero Cloud's Sub Bomber tank.
Some people call it an atomizer and some call it a coil, but we all mean the replaceable part that heats the liquid into a vapor. If your Tank is no longer producing adequate vapor or the flavor is getting "meh", It's probably time. Here are 6 tips on changing the atomizer in the Fumã Sub bomber tank.
1. Disassembly:
First, you need to remove the base of the tank (the part with the air holes). The base twists off by gripping the textured end and turning counterclockwise. If the tank is full, you can still replace the coil, but you need to hold the tank upside down. The atomizer should be seated in the base.
2. Don't Slip:
The atomizer will likely be wet with juice, so give it a wipe with a paper towel first so it's not slippery. The atomizer can then be unscrewed out of the base.
3: Don't Worry:
Sometimes the atomizer will stay threaded to the airflow passageway inside the tank. This makes it harder to remove, but can still be unscrewed. It helps if you have a pair of needle-nose pliers if you also happen to have huge fingers.
3. Don't overdo it:
Now, all that you need to do is simply twist in a new atomizer into the base. Be careful not to twist it in too hard, as it will be difficult to remove the next time.
4. Prime Time:
It's a good idea to wet the cotton in the center of the atomizer with a few drops of liquid before putting the tank back together. Doing this helps start the flow of liquid to the coil and prevents dry hits. We call this "priming the atomizer".
6. Ready to go:
When putting the tank back together, also remember not to tighten up everything with hulk strength. Over tightening can result in cracking the glass or ruining the atomizer.
If you are out of atomizers, you can pick them up here. 
For more information about the Sub Bomber Tank or the Aero Cloud, you can check out this helpful video.

---